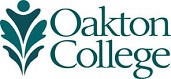 Des Plaines
Klein's compositions echo musical rhythm rendered by geometric and biomorphic shapes.
Des Plaines
The 94th Chicago Bar Association's Annual Bar Revue. Proceeds support the Oakton Annual Fund.
Des Plaines
Celebrate the dream...the purpose ... the legacy of Martin Luther King Jr., featuring Bryant K. Smith.
Des Plaines
Business Book Author series featuring author Tim Calkins.
Des Plaines
Seeking students, employees, and community members that identify as female.
Des Plaines
Led by Mark Olen, instructor of music, Jazzin' Around features classic and contemporary favorites, with a little something for everyone.
Skokie
Sponsored Oakton's Educational Foundation and Emeritus program, offering high quality programming for adults age 55 and older.
des plaines, skokie
Qualifying students complete their first two years of coursework at Oakton — and are guaranteed admission to UIUC to complete their four-year degree.
Des Plaines
The Lasting Impact of Early Connections: Recognizing the Value of your Work with Children, Families, and the Profession