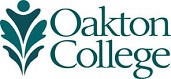 Oakton Students Take Top Spot at Science Competition
Oakton science students Kyle Van Den Bosch of Des Plaines and Agnieszka Szarzec of Evanston took first place at the Second Annual Skyway Conference Science, Technology, Engineering, and Mathematics (STEM) Poster Competition on Friday, April 8, at McHenry County College.
Van Den Bosch and Szarzec captured the top spot in the biological sciences category for their entry examining the "effects of plant growth regulators on the inhibition of tomato seed germination by allelochemicals in the berries of common buckthorn." In addition, John Kowols of Mount Prospect earned second place in the math/technology division for his display featuring "solar updraft tower-concept scaling and evaluation."
The STEM event featured more than 30 entries from area institutions including McHenry County College, Elgin Community College, and College of Lake County. Posters were evaluated on the participants' ability to use the process of science, as well as rational and logical thinking, to answer a question about the natural world.