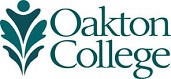 Oakton Students Take "Lunabot" All the Way to NASA
Oakton Community College was one of only 37 participants from around the globe — and the only community college — taking part in NASA's Second Annual Lunabotics Mining Competition last week. The robotics contest, held May 23 – 28 at Florida's Kennedy Center, required undergraduate and graduate students from colleges and universities to design and build a remote controlled robot — commonly known as a "lunabot" — capable of collecting and depositing a minimum of 10 kilograms of simulated lunar dirt within 15 minutes from a distance of 60 meters.
Members of Oakton's team who traveled to Florida included Daniel Kramer of Mundelein, Valentina Krug of Skokie, Blake Levien of Evanston, Felix Markman of Glenview, Mike Mazur of Lincolnwood, Faheem Memon of Skokie, John Shaba of Niles, and Kyle Uhl of Evanston. Most are involved in the College's Engineering and Physics Club.
While HOPE tipped over mid-way through collecting material due to a communication glitch, it was one of only 18 robots able to make it to the mining area remotely.
"HOPE really did make an impressive showing against teams with far more resources at their disposal," said math professor Andy Roach, who traveled with the group. "Many of the other robots had been formal senior design or graduate engineering projects — or even university-wide interdepartmental collaborations."
Designed to engage and retain students in science, technology, engineering, and mathematics (STEM), the NASA competition also included an outreach component that involves connecting the project with the local community. The Engineering and Physics Club recruited Owen Dudney, a first grade student at the Science and Arts Academy in Des Plaines, as a team member. Dudney met regularly with the club, offered design suggestions, and was the one who gave HOPE its name.
The trip to the Kennedy Space Center was the culmination of more than six months of work. While NASA imposed no spending cap, Oakton's team created a robot on a budget of less than $2,000. The group's entry consisted of wood, metal, brooms, a bicycle chain and sprockets, and even a garbage can.     
"I was in awe," said George Tootelian, instructor of physics and the club's advisor. "The students worked incredibly hard, giving up nights and weekends. Many of them have 'day jobs' too, and they had to fit the work around that. All of them sacrificed an awful lot for this project and showed exceptional commitment." 
"We had a shoe-string budget and HOPE was essentially an extracurricular project," adds Mazur, one of the team leaders. "And still, Oakton was a viable contender in this international competition. We're really proud of that."