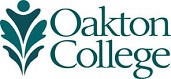 Recording a Record Season
Recording a Record Season
Oakton's 2010-2011 women's basketball team did something no other squad in College history has ever achieved – record 21 wins in a season.
Spearheaded by the formidable trio of Maria Joyce, Megan O'Neill, and Paula Elum, the Raiders had a potent one-two-three punch for scoring and rebounding. Joyce led the team averaging, 16.3 points and 10.7 rebounds per game, while O'Neill could be counted on to deliver 16.1 points and 9.9 rebounds a contest. A specialist from the three-point line, Elum made a team-high 40 three-point baskets and also led the team with 4.4 assists per game. A consistent scoring and rebounding threat, Elum averaged 9.0 points and 7.2 rebounds a game.
"Maria, Megan, and Paula made coaching easy," said head coach Rich Bolinder, who completed his 24th season with the Raiders this year. "You could pencil the three of them in for a double-double almost every game."
In addition, other athletes made vital contributions. Danielle Kindle, the only returning player, provided leadership and served as the team's top defender. Freshmen guards Bridget Aykroid and Ebony Ward cracked the starting lineup and also were capable of draining three-pointers. Maria Najarro, a 5-3 freshman guard, was usually the first player off the bench and consistently out-rebounded taller opponents. First-year players Maya Kosover, Christine Ocampo, and Laxmi Sharma all provided a spark and ball-handling skills off the bench at the guard position.
Oakton's talent meshed immediately as the Raiders bolted out to 12 wins in 15 tries. In addition, the team was known for its stingy defense, holding opponents to an average of 52.4 points per game, sixth best in National Junior College Athletic Association Division II. During the course of the season, the NJCAA recognized a Raider as Player of the Week a record five times.
Despite dropping a 76-62 loss to Moraine Valley Community College in the quarterfinals of the NJCAA Region IV Tournament, Bolinder remained upbeat.
"It was a season of firsts and I'm extremely proud to have been associated with this team," he said. "All of our players improved considerably from the start to the end of the season."
Individual Awards
Most Valuable Player: Maria Joyce
Most Improved Player: Bridgett Aykroid
Coaches Award: Megan O'Neill
Best Passer: Paula Elum
Best Defender: Danielle Kindle
Best Free-Throw Percentage: Megan O'Neill (75 percent)
Captain: Maria Joyce
All-Conference First Team: Maria Joyce, Megan O'Neill
All-Conference Second Team: Paul Elum
All-Region: Maria Joyce