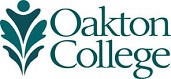 Classrooms
Ninety-five percent of College credit instruction is offered in traditional face-to-face classrooms and the College is committed to providing learning environments that serve the contemporary needs of student and teachers and adapt to future needs.  During the Master Plan development process, faculty identified improvement opportunities for Des Plaines campus classrooms. These opportunities, as well as Oakton's 2008 Classroom Task Force Report, included:
Appropriate space for number of students
Limited distance from seating to white board/projection screens
Outdated/undersized furniture
Lighting
Technology
Space utilization analysis further confirmed the need for larger and differently-configured classrooms.
Approximately 50 classrooms at the Des Plaines campus will be remodeled in phases over the course of the five-year Master Plan.  Technology innovations will be replicated in classrooms on the Skokie campus.
During the 2011 winter and 2012 summer breaks, the College renovated 24 classrooms - each containing different color schemes, furniture, and instructional tools. Faculty and students using these rooms are providing feedback about the varying concepts, which will be incorporated into the remaining renovations.
When the Science and Health Careers Center opens in the spring of 2014, ten to twelve large classrooms wil be created from existing science labs and remodeled space.
Timeline:
Phase II of this project -- renovation of 18 classrooms -- will be complete in August 2013.
Facilities Master Plan Timeline

2011 to 2014
Science and Health Careers Center
2013 to 2014
Enrollment Center at Des Plaines
Student Gathering Center
2011 to 2016
Classroom Remodeling
Infrastructure Projects