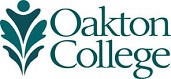 Commitment to a Green College
Oakton's 2008-2012 Strategic Plan, Change Matters, includes "Green College" as a core objective. Within the Facilities Master Plan, this objective is reflected in a commitment to sustainability throughout the grounds and buildings so that they model environmental responsibility and serve as an educational resource for students and the community. As funds allow, the Facilities Master Plan will incorporate:
Permeable/reflective pavement
Bioswales
Reflective or vegetative roofs
Building envelope improvements
LEED buildings
Day lighting and daylight harvesting
Low/zero voc products: paint, carpets, etc.
Water efficiency
Xeriscaping
Rain water harvesting
On-site composting

Flooding and Stormwater Matters
Because it is adjacent to the Des Plaines River, the Des Plaines campus experiences periodic flooding of roads, parking lots, athletic fields, and wooded areas. In fact, these areas were designed to flood.  The building itself is above the 100-year flood plain level and has never flooded. 
Oakton is mindful of flood and stormwater matters and worked with regulatory agencies to ensure appropriate stormwater management measures were incorporated into the Facilities Master Plan. The plan includes a minor elevation change at the peninsula for compensatory storage.  Additionally, storm detention is incorporated into the design of the Science and Health Careers Building: the main/first floor is on columns (or pilotis) with a majority of the building above the ground.  Use of a cistern or green roof is also being considered to retain stormwater and release it to Oakton's retention pond at a controlled rate.
Facilities Master Plan Timeline

2011 to 2014
Science and Health Careers Center
2013 to 2014
Enrollment Center at Des Plaines
Student Gathering Center
2011 to 2016
Classroom Remodeling
Infrastructure Projects