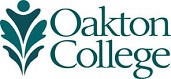 Student Gathering Center
Research shows that students who are comfortable and engaged in their collegiate environment are more successful and more likely to graduate.  But building a sense of connection and community is challenging on a commuter campus such as Oakton, where students must balance the responsibilities of work, family, and learning.
The new Student Gathering Center will centralize student-related activities that currently take place in a variety of locations. It will bring student leadership offices and programs together in a common area, accommodate growing and diverse student clubs and organizations, provide informal recreational space, and offer group study and meeting rooms.
Created in existing space across from the cafeteria, the Center will feature floor-to-ceiling windows that overlook the lake at the Des Plaines campus. 
Facilities Master Plan Timeline

2011 to 2014
Science and Health Careers Center
2013 to 2014
Enrollment Center at Des Plaines
Student Gathering Center
2011 to 2016
Classroom Remodeling
Infrastructure Projects