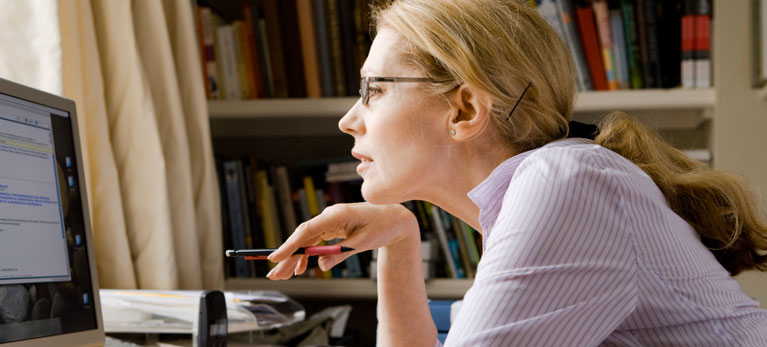 Student Resources
Student Resources
An Online with Oakton course is like any other Oakton credit course in that you will have to go through the admission and registration process, meet any applicable prerequisites, and obtain your textbook(s), if required . You can do each of these activities online. If the admission application is submitted online, it can be processed nearly right away. 
An important area where online courses differ from on campus courses is in the delivery process. Most of the class work for an online course is done via the Web. Because of this, there are certain technical and learner issues that are very important to consider before beginning your online course.
Already registered for online? See five steps to get started.
Technical Requirements
In the technical area, you need to identify where you'll be doing your online work. Your computer and Internet connection must pass the system check. Some courses will require higher specs, which will be noted in the description for each course.  Click on "Tech Resources" for more detailed information. 
If you don't have a home computer or it doesn't work for you, students can visit one of Oakton's computer labs and use the computers there at no charge.  Most public libraries also offer computer access.
Access Codes
Several online courses require Access Codes to enable entrance into specialized learning sites.  If required, most access codes are packaged with the correct textbook for the course and section.  Your instructor can assist with any questions. Note: Used texts will not have an active access code, and will require the student to purchase an access code separately.
Alumni Profile
IMPORTANT DATES
September 7
Labor Day holiday. College closed.
September 20
Last day to withdraw from 16-week courses and have course dropped from record.
September 21
Last day to change to audit for 16-week courses.
October 4
Incomplete (I) grades from summer 2015 semester for which faculty have not submitted final grades will become an "F" after this date.
October 9
Last day for filing Graduation Petitions.
October 25
Last day to withdraw with a "W" from 16-week courses; Students will receive a grade in all courses in which they are enrolled after October 25.
November 11
Veterans Day holiday. College closed.
November 18
Registration opens for spring 2016 semester.
November 26, 27
Thanksgiving Recess. College closed.
November 28, 29
Thanksgiving Recess. No classes, College open. (Most offices closed.)