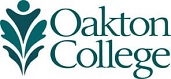 Des Plaines
Nevertheless She Persisted: Women of Courage, Tenacity, and Strength. A juried exhibition of art by women. Submission deadline is Tuesday, Aug 1.
Skokie
Parents interested in enrolling their children in the Early Childhood Center at Oakton's Skokie campus are invited to attend an open house.
des plaines, skokie
Visit Oakton this summer and discover why the College is the ideal place to start or continue your college education.
Des Plaines
Join us for this free bilingual family event, featuring workshops, free food, and door prizes! Enter a drawing to win a gift card, Oakton shirt, or scholarship.