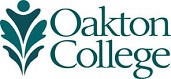 Online and Make-Up
Online Courses
The College offers a variety of classes accessible over the Internet from the Oakton website. Students are not required to log into their online class at the same times each week, but enjoy the flexibility of accessing the course at times that are most convenient for each student. The same dynamic interaction between faculty and other students can take place in an online class as in one that meets in person, via email, discussion forums, and chat sessions. All online courses require the use of a computer with internet access. Some online classes require students to take their exams in the Testing Center. Additional information is available at www.oakton.edu/distancelearning, or by contacting the office of Online Learning at 847-635-1970.
Make-Up Tests
Students who miss an exam in class because of an excused absence may arrange with the professor to make up the test in the Testing Center.
Policies
Students may take tests at either the Des Plaines campus, Room 2409, or at the Skokie campus, Room A135.
No appointment is needed during regular testing center hours.
All students must show a photo I.D.
For more information contact:
Mary Christiansen, Testing Coordinator
Des Plaines campus, 847-635-1933
mchristiansen@oakton.edu
Jennifer McNeela, Assistant Testing Coordinator
Des Plaines and Skokie campus, 847-635-1923
jmcneela@oakton.edu