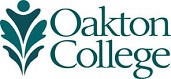 Oakton's Bornschlegl Named Chief of Police and Emergency Management
(Aug. 21, 2017) Oakton Community College selected Marvin Bornschlegl from among 46 candidates as the college's next chief of police and emergency management. His appointment was affirmed by the Oakton Board of Trustees on Tuesday, Aug. 15. Bornschlegl has worked at Oakton for the past nine years in several capacities, most recently as a personal counselor.
"Marvin's descriptions of how he connected with people in the community during his previous experience with law enforcement and current work at Oakton really shined through during the interview process," says Vice President for Administrative Affairs Edwin Chandrasekar. "Along with being a problem-solver, his communication skills and work ethic will strengthen our police department."
Bornschlegl has more than 22 years of law enforcement experience and served with the Morton Grove Police Department from 1991 to 2013. He has been an adjunct professor of psychology at Oakton since 2008 and a personal counselor at the college since 2012. He holds a master's degree in community counseling and a bachelor's degree in criminal justice, both from Northeastern Illinois University.
"I'm very honored and humbled to have been selected," Bornschlegl says. "I plan on leading through service.  Equity, teaching and learning, planning and community all play in important role in this position. My experiences in training, counseling and policing—in partnership with staff, faculty and administrators—will continue the department's tradition of being the community's police."
The Niles resident will be sworn in at a 9 a.m. ceremony Wednesday, Aug. 23, at Oakton's Des Plaines campus, 1600 E. Golf Road.