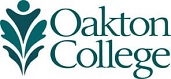 Educational Foundation
The Educational Foundation proudly supports the mission and vision of Oakton Community College by raising funds in support of student scholarships, academic programs, teaching excellence, and capital improvements that enhance the quality of education at Oakton.
In this time of major divestment in public higher education, Oakton must rely on the philanthropy of community members to maintain its level of excellence. The generosity of Foundation donors helps assure Oakton's ability to provide access to an exceptional education. Together, we can prepare diverse learners to meet and exceed the educational and professional needs of our dynamic society.
For more information, call 847.635.1893 or email foundation@oakton.edu.

MAKE AN ONLINE DONATION today or see Ways to Give to learn more about the many ways in which you can contribute to the Oakton Educational Foundation and support our students.
Oakton's Finest: Art for Education's Sake
CALL TO ARTISTS
The Oakton Educational Foundation invites our community of local artists — including exhibiting artists, faculty, and students — to consider donating original artwork for the Oakton's Finest silent auction. The artwork can be something that you have on hand, or something that you create exclusively for the event. This is an opportunity to expose your work to a large audience in the Oakton community, while supporting our mission of student success! 
Guidelines for Submission (Download form.)
This is a juried art auction. Items that are not selected by the jury or sold at the auction will be returned to the donor. All submissions are considered a donation to the Oakton Community College Educational Foundation, and all proceeds from the sale of donated art go toward the Oakton Annual Fund. All media are accepted. All donated pieces must be submitted with completed form.
Deadline for Submission
Friday, September 28
Artwork must be dropped off by appointment at Oakton's Koehnline Museum of Art, 1600 East Golf Road, Des Plaines. Call 847.635.1633 to arrange a date and time for drop-off.
EVENT DETAILS
Friday, Oct. 12, 6 p.m.
Acorn Room Lobby
Skokie campus
7701 Lincoln Ave.
Tickets: $50.
Purchase yours by Friday, Sept. 28, online or by phone at 847.635.1893.
Join us for an evening featuring a silent auction of artwork by local artists, students, and faculty, as well as live music, hors d'oeuvres, and drinks.

All proceeds support the Oakton Annual Fund.