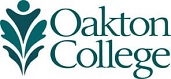 Two Oakton Employees Earn National "40 Under 40" Award
(May 24, 2018) Evanston native Maya Evans, Ph.D., and Morton Grove resident Kasia Wereszczynska, employees of Oakton Community College, were recently recognized by the American Association for Women in Community Colleges (AAWCC) with the 40 Under 40 Award.
"There are thousands of community colleges across the country, so having two of our own named to this prestigious list of outstanding young leaders gives us a great deal of pride," says Oakton President Joianne Smith, Ph.D.
Supporting the advancement of women in community colleges is a core value of AAWCC, and the award recognizes outstanding female leaders under the age of 40 working at a community college. Honorees received a necklace engraved with the 40 Under 40 AAWCC insignia.
"These 40 rising stars are making a difference for the colleges that they serve," AAWCC President Beverly Griffea-Walker says.
As executive director of research and planning, Evans led the Oakton committee that developed a new strategic plan in 2017 as well as the team that readied the college for a recent successful affirmation of accreditation by the Higher Learning Commission. Her office also has been responsible for collecting and analyzing college-wide data on student success, which is helping to drive initiatives to improve outcomes and student retention and completion rates. She also has been instrumental in disaggregating diversity and equity data to help track and improve student success and persistence across all student groups.
"Oakton is the engine of opportunity in our community," Evans says. "I am passionate about helping to move Oakton forward, and it is very exciting to be honored for doing so."
An alumna of Evanston Township High School, Evans is a graduate of Washington University in Saint Louis and earned her master's and doctorate from the University of Illinois-Chicago in urban planning and policy.
Wereszczynka is an adjunct psychology lecturer both at Oakton and St. Francis University in Joliet. She also works in private practice at counseling speaks, LLC and consults with the Park Ridge Police Department on high risk interventions that include families in crisis, suicide prevention, and domestic violence. Wereszczynka is the founder of the Chicago-based Charity called In Her Shoes Foundation, which empowers and inspires every woman and girl to be her personal best.

"I credit my mother for a lot of my inspiration. She brought me to the U.S. at the age of five from Poland to join my father, who was doing very difficult manual work to support us," Wereszczynka says. "Neither had higher education, but they made sure my two brothers and I got the best education possible. I enjoy paying it forward by mentoring my students and helping women and families in crisis."

An alumna of Niles West High School and Oakton Community College, Wereszczynka holds an M.A. from the Illinois School of Professional Psychology, Argosy Chicago Campus, she is a licensed clinical professional counselor with more than 15 years of experience working in behavioral health and has given presentations at national and international conferences. She is also a registered yoga teacher.