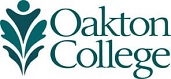 Two Oakton Students Named to Phi Theta Kappa Illinois All-Academic Team
(May 3, 2018) Oakton Community College students Faria Ameen (Des Plaines, Maine East High School) and KylaRose Sybico Schulman (Lincolnwood, Niles West High School) have been named to the Phi Theta Kappa (PTK) Illinois All-Academic Team, which was recognized at a recent ceremony in Springfield. The two were also honored at Oakton's Board of Trustees meeting April 17.
"I am proud to have been an Oakton student," says Ameen, who graduated from Oakton in December 2017 with a 3.71 grade point average. "Oakton has opened new pathways for me. It is a bundle of resources that not many people avail. I built valuable connections which helped me all along."
Ameen is now pursuing a bachelor's degree in computer science at University of Illinois at Chicago with the goal of becoming a cybersecurity engineer. In addition to earning President's Scholar and High Honor Roll recognition, she was director of membership for Phi Theta Kappa honor society, was an Honors in Action Project co-lead, and was involved with the College Project, Institute of Electrical and Electronics Engineers events, and the Muslim Student Association. She worked as a TRIO peer mentor, helping first-generation college students navigate the college and also worked on new student orientations.
"I am honored to have represented Oakton as a PTK All-Illinois Academic Team member and thank everyone who has helped support me through my journey," Schulman says. "Oakton has helped me achieve my educational goals by helping me prepare myself towards a higher education."
A two-time President's Scholar, Schulman hopes to one day become an oncologist. She is studying pre-medicine and psychology and has earned high honor roll distinction with a 3.90 GPA. She is a member of the Phi Theta Kappa honor society and was named to the All-Illinois Academic Team. In addition to her academic prowess, she has served as a Student Government Association delegate, vice president of the Skokie Events Team and vice president of the Oakton Pop Tart Club. She served as co-president of the Korean Pop Culture Club in spring 2018. A graduate of Oakton's Emerging Leaders Program, Schulman has also found time to be involved in Oakton's Japanese Club.
"Oakton has really allowed me to discover myself and opened my eyes to all the wonderful opportunities that the school has to offer. Being a part of student life has really helped mold me into the student leader I am today," adds Schulman, who will graduate from Oakton on Tuesday, May 15. "I have gained confidence, passion, friendship and integrity as a result from all of my experiences at Oakton and plan to carry on these essential characteristics as I continue on my academic journey at UIC in the upcoming fall semester."
Phi Theta Kappa is the premier honor society recognizing the academic achievement of community college students to grow as scholars and leaders. The society is made up of more than 3.2 million members and nearly 1,300 chapters in nine nations.
"We are so proud of our students and the way they exemplify the values of Phi Theta Kappa," says Student Life Program Assistant Simi Khurana, PTK advisor. "While being recognized by the honor society is important, what's even more important is the opportunities provided to them to grow as scholars and leaders. Good things happen for those who get involved, and that can lead to scholarships and other benefits."