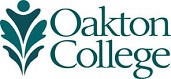 Oakton Student Receives Prestigious Cooke Foundation Scholarship
(May 1, 2017) For the second straight year, an Oakton Community College Honors Program student has been awarded the Jack Kent Cooke Foundation Undergraduate Transfer Scholarship. Dominique Tuszynski (Elmwood Park, Elmwood Park High School) will receive up to $40,000 a year to complete a bachelor's degree at a four-year college or university.
Tuszynski is one of 55 community college students to receive the prestigious award from a pool of nearly 3,000 applicants. Each of the Cooke Undergraduate Transfer Scholars have financial need and a strong record of academic achievement as shown by grades, leadership skills, awards, extraordinary service to others and perseverance in the face of adversity. Oakton alumna Roxana Berinde of Morton Grove received the scholarship in 2016.
"Oakton felt like home," says Tuszynski, who will be graduating from the college later this month with an associate in arts degree and a concentration in environmental studies. "I had an amazing experience because of all the outstanding professors I had and all the friends I made."
Tuszynski, who plans to pursue a degree in international studies from University of Wisconsin-Madison, took advantage of many of the opportunities Oakton provided, as she was involved in the Students for Social Justice organization, Ecology Club and Oakton Pride.
"This speaks volumes about the quality of students we've had at Oakton," notes Tom Bowen, co-coordinator of the Honors Program. "It's quite a feather in our cap to have back-to-back winners from the college."
Tuszynski greatly enjoyed her experiences in her honors classes, which included studying various disciplines such as environmental ethics, anthropology, global studies and ecology.
"I like the interdisciplinary interaction of the honors classes," Tuszynski adds. "Most of the subjects seemed unrelated at first, but we learned quickly how they connected."
The Cooke Foundation Undergraduate Transfer Scholarship is the largest private scholarship in the nation for students transferring from two-year community colleges to four-year institutions that award bachelor's degrees.
"Our Undergraduate Transfer Scholars have a proven record of accomplishment at elite colleges and universities and have gone on to successful careers in many professions," said Cooke Foundation Executive Director Harold O. Levy. "This is among the most prestigious scholarships in the country, and we are extremely proud of the talented students who have been selected."
Cooke Scholarships fund the costs of attending college not covered by other financial aid, plus academic advising, stipends for internships, study abroad, and opportunities to network with other Cooke Scholars and alumni. In addition, after earning a bachelor's degree, each Cooke Scholar may be eligible for a scholarship for graduate school worth up to $50,000 a year for up to four years.
"I can't get over the fact that I'm a recipient of this scholarship, and I almost started to cry when I found out about it," Tuszynski recalls. "This helps me to look forward to my future education. It's a major financial relief that I won't be in over my head in debt when I graduate."