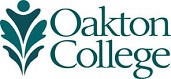 Hoot for Oakton! College unveils new athletics logo mascot
(Dec. 11, 2015) Oakton Community College unveiled its new Owls athletics moniker in a Dec. 10 ceremony prior to scheduled basketball contests against Wilbur Wright College. President Joianne L. Smith and Vice President for Student Affairs Karl Brooks revealed the logo on a panel of the official scorer's table.
The new mascot image—which has been in development for more than a year—was well received by fans in attendance, who after the unveiling started chanting, "Whoo! Whoo! Whoo!"
"The new logo brings a lot of energy to the athletics program," says Athletics Director Bruce Oates. "Our new athletics identity captures the spirit of our athletics teams, and we hope it helps strengthen the feeling of identification with Oakton."
He says the new logo reflects Oakton's student athletes, the college and the natural forest that surrounds it. Owls are mysterious and mystical creatures that symbolize wisdom, perception, purity and determination; they are also a modern reminder of the importance of environmental conservation.
Owls are keen, swift and relentless hunters that move about with quiet power, stealth and confidence. Oates adds that like the animals found in nature, Oakton Owls are hard working in the classroom and in competition.
Following the unveiling, members of the men's and women's basketball teams tossed Oakton Owls t-shirts into the bleachers, and fans clamored for the new merchandise. T-shirts were also given to the many who brought a non-perishable food item to support the Black Student Union's food drive.
Oakton's College Relations Department, through a collaborative effort with the Athletics Department, created the new athletics logo. As part of the logo identity process, four final treatments were selected from among 10 different designs. The final logo mark was selected after receiving input from student-athletes and coaches, faculty and staff, alumni, and student leaders.