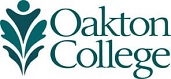 Oakton Artists Take Top Two Spots at Recent NIU Juried Art Exhibit
(April 15, 2019) Oakton Community College art students April White, formerly of Glenview, and Michael Murray (Glenview, Glenbrook South High School) recently captured the top two spots at Northern Illinois University's juried competition of community college student artwork. White's painting, "Aracadius' Ocean," won best in show at the exhibition, and Murray's ceramic teapot took first place. Both Oakton artists received scholarship offers to NIU for their performance.
White, who has been taking art classes at Oakton since 2018, gained inspiration from her 1-year-old son, Alexander Arcadius, for her winning entry. The painting combines images of the ocean, a polar bear and outer space to form a unique mythological look.
"When I was pregnant with my son I wanted him to have an inspiring image to view," says White, who has been painting for more than a decade. "My imagination just flowed and I even wrote the message, 'You are my constellation,' on the back. I was really excited about winning as I think it's one of my best paintings. It's a personal bonus to receive a scholarship to NIU."
White plans on transferring to NIU, where she plans on pursuing a studio arts degree with the ultimate goal of teaching at the collegiate level.
A single mother, White credits Oakton for helping to give her direction: "The instructors here are so nurturing in helping you pursue your passions. Oakton was a place to help get to where I want to be and it also reinforced my passion for art."
Murray, who plans on graduating from Oakton this summer with an associate degree, was inspired for his entry because of the complexity involved in creating an angled tea pot. He stacked hexagonal shapes to form one tea pot.
"I was extremely surprised to find out that my entry took one of the top two spots," Murray says. "I enjoy tea and making tea pots is my favorite thing to make in ceramics. Tea pots fascinate me because they need to have visual balance. My entry also was unique because I used ground dirt and clay from a forest to create the glazed color. I thought that was a great way to connect my love of art with nature."
Murray plans on attending the University of Illinois at Urbana-Champaign to study art education.
"While at Oakton, I received tons of support and had my creativity validated," Murray says. "Oakton has been inspirational in supporting my work as a ceramic artist."
The competition, sponsored by NIU's School of Art and Design, featured entries from more than 10 community colleges across the state, including Carl Sandburg College, College of DuPage, College of Lake County, Elgin Community College, Harold Washington College, Harper College, Heartland Community College, Joliet Junior College, Kishwaukee College, Lewis and Clark Community College, McHenry County College, Morton College and Rock Valley Community College.