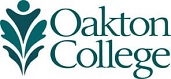 Visiting Oakton
Whether you're ready to begin your college career, change jobs, or learn a new skill, we invite you to visit Oakton Community College.
When you visit our Des Plaines campus, you'll witness the natural beauty of our forest-preserve setting. You'll also have a chance to tour our recently renovated Performing Arts Center, technologically advanced computer labs, Fitness Center, and the Koehnline Museum of Art. 
Our Skokie campus, conveniently located near the Edens Expressway and several public transportation options, has a more urban setting. The Skokie facility boasts 225,000 square feet of learning space and features a recently constructed Art, Science, and Technology Pavilion. 
When you visit either campus, you'll meet some of the faculty and students who are at the heart of the Oakton experience. And you'll discover how Oakton Community College can help you expand your options and reach your goals. 
Oakton sponsors regularly scheduled Campus Visit Days throughout the year at both campus locations, and Parent Orientations during the summer. View the schedule and sign up for your visit or schedule your own visit by contacting Student Recruitment and Outreach.