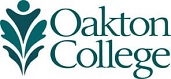 Accountability
Oakton Community College exercises responsibility through accountability to each other, the community, and the environment.
Oakton's strategic plan, "Success Matters," outlines four strategic commitments—to equity, teaching and learning, community, and planning—as part of its ongoing improvements related to fulfilling the mission, vision and values of the college.
The college collects, analyzes, and disseminates internal and external data to support the college in making informed decisions and developing creative solutions that improve institutional effectiveness, accountability, and student success. As part of Oakton's commitment to transparency, the college communicates this information to internal and external stakeholders.