In the fall of 1970, 832 students from the northern suburbs of Chicago began attending classes being held inside four old factory buildings at the intersection of Nagle Avenue and Oakton Street in Morton Grove.
They were the first students at Oakton Community College and the first to experience Oakton's tradition of excellent education and dedication to its students.
Officially founded in 1969, Oakton began with a mission to truly be the community's college: that is, to serve the students of District 535 and offer access to a quality education that empowers them and allows them to transform their lives for the better.
Dr. William A. Koehnline was the College's founding president, and he guided the school through its early days. Oakton's spirit of innovation and willingness to try new things for its students was there from the beginning. In 1971, Oakton became the first educational institution in the U.S. to install IBM's 370/3031 computer, the most advanced and high-speed model available at the time.
From Factory to Forest Preserve: The Campus Grows
In 1974, to accommodate its growing student body, Oakton purchased 170 acres of land between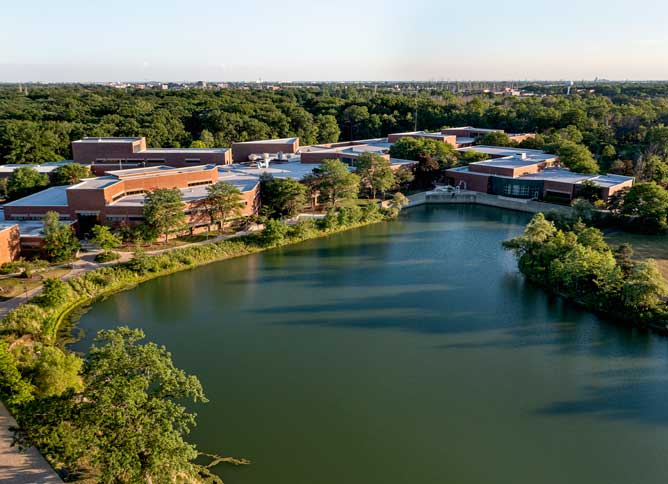 the Des Plaines River and a county forest preserve. Development on the new site began in 1975, and Oakton's beautiful Des Plaines campus opened for students in June 1980.
Today, this scenic campus at 1600 East Golf Road sits in a forest preserve and includes a 435,840-square-foot main building and a 7,300-square-foot grounds maintenance building. That main building houses a 9,500-square-foot gymnasium, a performing arts center with a 285-seat theater, the Koehnline Museum of Art and a Fitness Center. The TenHoeve Center—named for Oakton's second president, Dr. Thomas TenHoeve— hosts job fairs, conferences, and a variety of other large events.
The Des Plaines campus is also home to the Margaret Burke Lee Science and Health Careers Center, named for the College's third president. The Lee Center, as it's called by students and staff, first opened its doors for the spring 2015 semester. It is home to the Division of STEM and Health Careers and houses the College's anatomy, biology, chemistry, earth science, medical laboratory technology, nursing, physical therapy assistant, physiology and physics programs. The 93,000-square-foot building is also LEED Gold certified for sustainability and is among the most efficient public buildings in the country, showcasing the latest eco-friendly technologies and demonstrating Oakton's commitment to conserving our environment.
Expanding to a Second Campus
In 1980, the same year the Des Plaines campus opened, Oakton opened its "East Campus" in a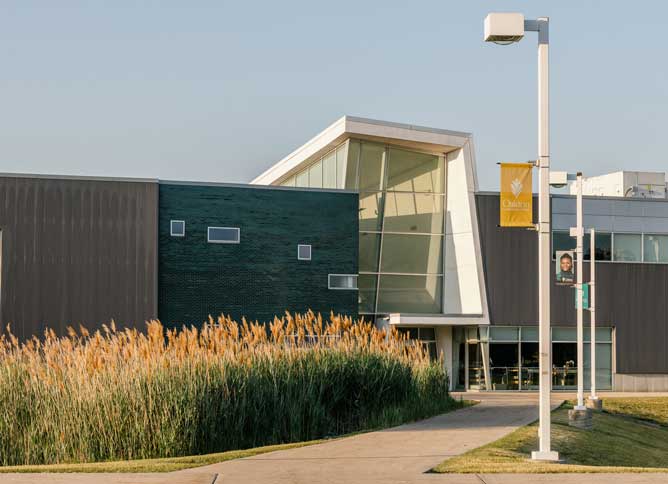 former high school in Skokie. Renamed the Ray Hartstein Campus in 1991 to honor Oakton's founding chairman, the Skokie location eventually became home to a brand-new facility in 1995.
Currently situated on 21 acres at 7701 North Lincoln Avenue, the Skokie campus is home to 34 classrooms, 34 labs, 86 offices and the Early Childhood Demonstration Center. Built in 2006, the Art, Science, and Technology Pavilion houses Oakton's programs in architecture and construction management, art and graphic design, computer networking and systems, computer technology and information systems, electronics, engineering and manufacturing.
The Pavilion's architect, Ross Barney, earned a "citation of merit" in the Distinguished Building category from the Chicago chapter of the American Institute of Architects. A $75,000 Illinois Clean Energy Fuel Foundation grant enabled the firm to incorporate numerous energy-efficient features into the Pavilion design. Such features include building materials that reduce heat transfer, occupancy sensors for lighting and temperature control, low flow technologies to reduce water consumption, and sustainable materials like bamboo flooring.
Beyond the Campus: New Frontiers for Learning
In addition to the two main campuses, Oakton offers continuing education, training, and workforce development programs at hundreds of "neighborhood" campus locations.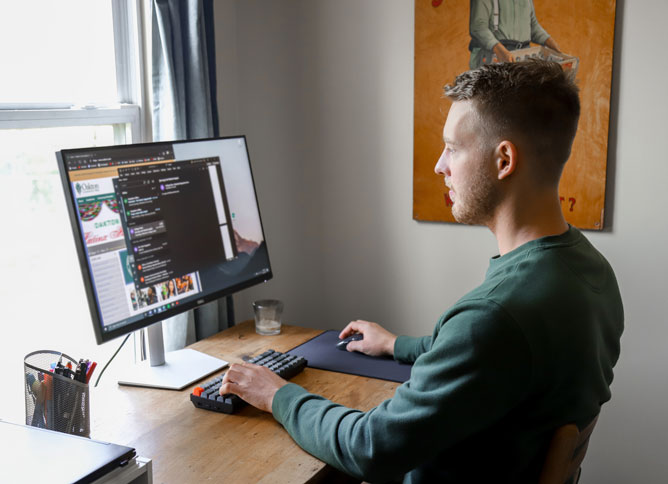 Delivered through the Alliance for Lifelong Learning and the Continuing Education, Training, and Workforce Development department, these locations, found in high schools throughout the area, have allowed Oakton to carry on its work as a leader in adult and continuing education. These non-credit programs serve some 43,000 people annually, with 33,000 in noncredit courses and workshops and at least 10,000 more in community service offerings.
As new technology emerged and allowed new ways of learning, Oakton embraced innovation and began offering a digital campus for students seeking an online education. The College quickly developed a wide range of innovative online courses to serve the needs of an increasingly diverse student body. Nearly all general education requirements for the associate in arts or associate in science degrees can be completed entirely through online courses at Oakton.
Our experience in the digital field and willingness to innovate also allowed Oakton to effectively move classes online to protect student, faculty and community health during the COVID-19 epidemic. Our nimbleness and willingness to effectively respond to community needs also inspired us to offer contact tracing courses, training students to help combat the spread of the disease.
A Proud History, A Bright Future
In 2019, Oakton celebrated its 50th anniversary with a series of events throughout the year, including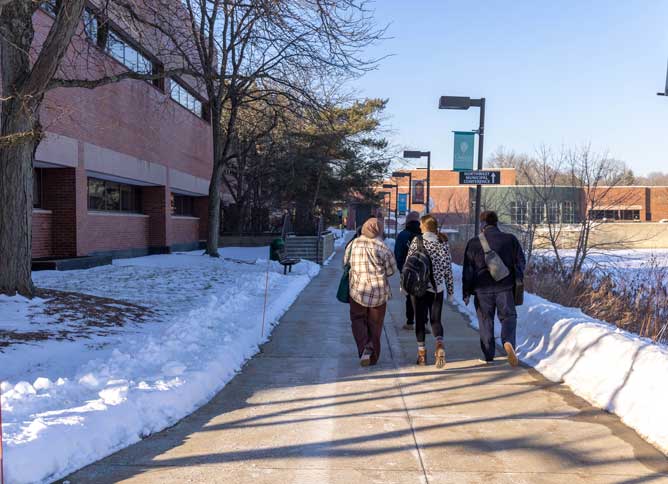 an exhibition at the Koehnline Museum of Art. The exhibition included numerous Oakton videos celebrating the school's accomplishments and the people who brought them to life. As part of the celebration, an Oakton 60+ page 50th Anniversary Photo book (Flipbook) (2.5 MB) documenting the College's history was also produced.
By the time Oakton's fourth president, Dr. Joianne Smith, presided over this celebration, the College had awarded more than 30,000 degrees and certificates and educated more than half a million students, changing the lives of generations of learners in the Community College District 535 and beyond.
Looking ahead, we continue to innovate, expand and improve. We are still guided by the same commitment to education that this school was founded on, and our vision for the future is defined by our "Vision 2030: Building Just and Thriving Communities" strategic plan. Spearheaded under President Smith's leadership, "Vision 2030" contains the strategic priorities of advancing racial justice, strengthening students' Oakton Experience, and enhancing workforce readiness and community engagement.
Turning a New Leaf as Oakton College
In January 2023, Oakton Community College became Oakton College.  With the name change, Oakton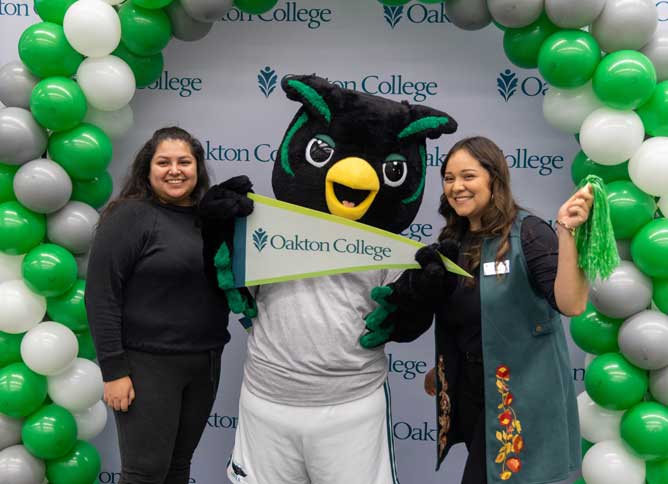 revealed an updated logo and visual identity still firmly rooted in diversity, inclusion and equity.  A combination of institutional and societal factors, including the launch of a new strategic plan, created an ideal opportunity for Oakton to reintroduce itself to the communities it serves.
"We have been working toward this transition since early 2022; it feels great to start the spring semester welcoming students to Oakton College. We believe many current, past and future students, business leaders and the broader community will better identify with 'Oakton College' and its life-changing educational opportunities," said Oakton President Joianne L. Smith, Ph.D. 
With a new name, Oakton remains the community's college as it supports and empowers the students of today and tomorrow as they embark on an educational journey that will transform their lives.