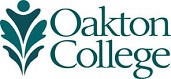 HLC Visit
On September 25-26, a team of five peer evaluators from the Higher Learning Commission will visit Oakton for a comprehensive evaluation visit. Our goal for this visit is full reaffirmation of the college's accreditation. The visit grants us the opportunity to tell Oakton's story, discuss our many accomplishments, and share areas that we are focused on improving. The evaluation team creates the schedule for the visit, which features a combination of individual meetings, topical meetings with specific focus, and open forums.
Information you may find helpful for the upcoming visit
Please direct questions about the visit to Maya Evans, Executive Director of Research and Planning, at mevans@oakton.edu.