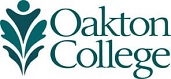 Sustainability Guidelines
Finalized 5/12/2016, by Sustainability Center & Green Committee
At Oakton Community College, we understand we are part of a diverse landscape and ecosystem. Sustainable use of resources is important not just for the college's operations, but for the communities to which we are connected. We believe sustainable leadership through action, academic practices, and social experiences on campus are integral to helping our students become mindful global citizens. With this understanding, we commit to:
Providing opportunities for student learning and engagement through sustainability related course content, curriculum, and extra-curricular involvement.
Making climate action a priority for the college by tracking energy usage and improving efficiency, promoting use of renewable resources, following green building guidelines, and reducing greenhouse gas emissions.
As a commuter college, recognizing the impact of transportation costs on our local and global environment and promoting sustainable transportation opportunities for students, employees and visitors.
Reducing our use of resources, increasing diversion efforts, and managing waste in an efficient and sustainable manner.
Developing and maintaining a sustainable purchasing plan which includes all materials, systems, and services secured for campus operations including, but not limited to: office materials, food services, and recycled products.
Maintaining, managing, and restoring natural areas on our campuses and protecting the wildlife habitats and ecosystem functions therein and serving our community through our gardens.