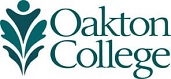 Get Involved & Stay Connected
Go green! We encourage you to get involved with existing clubs on campus that align with Oakton's sustainability goals such as Ecology Club or Students for Social Justice. You can also contact the Office of Student Life about creating your own. Check out how other Oakton students became engaged by reading the profiles of Jake Harris and Alan Kroeger.
Green Committee
The Oakton Green Committee comprises an interdisciplinary team of staff, faculty, and students who meet regularly to outline and prioritize sustainability initiatives on and off campus. In addition to guiding decisions about operations and practices, the Committee also sponsors events and activities throughout the year.
Student groups, faculty, and staff can also suggest green projects by completing a green prospectus available to employees on myOakton. (Available to student groups through their advisor.) All submissions are reviewed by the Committee.
Do you have an idea for how Oakton Community College can be more "Green"? We want to hear it! Send us your suggestions.
Events
The Green Committee works to sponsor many events and activities on campus to encourage sustainable behavior. Each April, the Green Committee organizes a week-long Earth Day event with speakers, recycling and environmental campaigns, and hands-on opportunities for stewardship through forest preserve and community garden clean up.
Stay Connected
Visit our Facebook page and  "Keeping it Green" Blog.
E-mail greenteam@oakton.edu.
Sustainability Specialist
Debra Kutska, sustainability specialist, would be happy to speak with you about becoming involved. Contact her at dkutska@oakton.edu or 847.635.1768.
Professional Associations
Association for the Advancement of Sustainability in Higher Education
Illinois Green Economy Network, IGEN