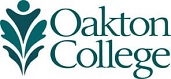 Plan Highlights
The Master Plan for 2017-2022 builds upon the $68.5 million five-year Facilities Master Plan adopted in December 2010 and will include the following projects:
Entrance Signage
The monument signs at the Des Plaines campus were demolished and rebuilt in summer 2017 to provide clear identification at both campus entrances. The signs reinforce the identity of Oakton Community College. View the Monument Signage presentation (pdf) to the Board of Trustees, January 2017.
West End Remodeling
The west end of campus was largely vacated with the completion of the Lee Science and Health Careers center. The renovation of this space will include instructional spaces, administrative offices, and facilities for Counseling and the Health Center. A new elevator will also be added to ensure safe access to all floors of the west end.
Student Street Renovation
Student Street connects the enrollment center to the student center and cafeteria and through to the West End, creating a continuous path through the Des Plaines campus. The street had not been updated since the campus opened in 1978. The project allows for new flooring, lighting, fixtures and furniture. This project began in May 2017 and is expected to be completed in phases. View the concept designs in the Student Street presentation (PDF) to the Board of Trustees, January 2017.
Site Restoration and Improvements
Oakton has beautiful grounds at both the Des Plaines and Skokie campuses. The 2017-2022 Master Plan addresses enhancements to the sites by identifying landscape zones and recommending infrastructure updates  Natural areas will be restored with native, non-invasive species to enhance the aesthetics and maintain a healthy environment.