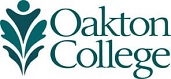 About Human Resources at Oakton
Oakton Community College enables its employees to enjoy the best of both worlds—a stimulating and challenging career and a work schedule that allows time to pursue personal interests.
From a four-day work week in the summer to extended time off during Thanksgiving and Winter Break, employees are able to strike a balance between managing a career and pursuing family and leisure-time activities.
In addition to an accommodating work schedule, Oakton offers a generous benefits package that includes a variety of medical and dental plans and employer-provided life insurance.
Oakton is an Affirmative Action/Equal Opportunity Employer. It was also named as one of 2011's Top 50 Employers by Historically Black Colleges and Universities Connect. The HBCU Connect list recognizes companies and organizations that have done an excellent job in their specific efforts to target students and alumni from the nation's 105 historically Black colleges and universities.