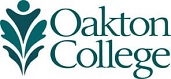 Student Login IDs
Students at Oakton have a single login ID and password - your login ID and password for myOakton is the same one you'll use for computers on campus.
You may look up your ID information online at http://www.oakton.edu/idlookup.
Forgot your password? Use the self-service password reset option.
You may call the IT Help Desk, 847.635.1965, during regular business hours if you need help resetting your password.
Student Login IDs and Passwords
The following is important information for students logging into Oakton computers, the myOakton portal and email.
The format for student login IDs (including online course IDs and Oakton email addresses) is:
<first initial><up to first seven letters of the last name><last four digits of your Oakton ID>
For example, a student named George Washington with Oakton ID: B01234567, would have the Oakton login ID gwashing4567.
* Your Oakton ID number is assigned by the College. It will appear on your bill and your instructor's class roster.
Initial passwords for new users will now be one of two possibilities:
Those who applied to Oakton with a paper form should have received a letter with your password; you will need to change this password after logging in to myOakton using the password change icon in the upper right corner.
Those who applied to Oakton using the online form will use the password they created at that time.
Note: When changing your initial password, your new password must be at least 10 characters long and contain upper and lower case letters, and numbers.
Using computers on campus
Students who are enrolled in credit classes, as well as students in non-credit (Alliance) computer classes on-campus, have access to on-campus networks and computer labs. When you apply at Oakton you are automatically assigned a computer network account (certain non-credit classes also qualify-- your instructors will let you know). While you are registered for classes and any financial obligations to the College are fulfilled, you may use this account to log into workstations in any of the open or classroom computer labs.  Your account gives you access to the wide variety of application programs available on Oakton's Network and on-campus access to the Internet. 
If you are not currently enrolled your network access account becomes "inactive" though you may still use it at anytime to register for classes online.