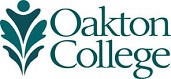 Wifi on campus
Note: Wi-Fi access is offered as a convenience to our computer users.  All users of Oakton's Wi-Fi network must abide by our technology use policy.
The "OCC" Wi-Fi network is the publicly accessible network for mobile devices available on both campuses. If you have any Wi-Fi problems while on campus, please contact our IT Help Desk at 847.635.1965 during normal business hours.
Oakton's Wi-Fi network has no encryption, and all users are urged to exercise caution when using it.  Oakton is not liable for any data loss or theft while using it's Wi-Fi network.