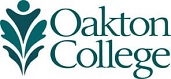 Oakton TV
Experience the enriching, entertaining and engaging aspects of educational television by tuning in to Oakton TV.  Originating from Oakton's Des Plaines campus, Oakton TV provides educational programming and a variety of content of general and cultural interest to the community.
Stay up to date with what's happening at Oakton by watching monthly board meetings and other special event broadcasts.
In addition to Oakton TV's online streaming, OTV can be found on various cable outlets throughout Oakton Community College District 535.