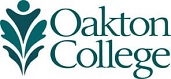 Video Conferencing
Oakton's two campuses are connected by interactive video equipment. Located in room 2546 at Des Plaines and room C240 at Skokie. This equipment makes it possible to offer courses in real-time video simultaneously at each campus and enables the College to combine sections with low enrollments.  Students and teachers are able see, hear, and speak with each other; ask questions; and participate in class discussions. Students register for the class site most convenient for them.
This interactive video capability can be used for meetings and special events, as the class schedule permits. Portable equipment is also available on the Des Plaines campus to connect from a variety of spaces to off-campus sites. For assistance, contact the facilities planner at 847.635.1668.
To access training in the use of interactive video, contact Media Services at 847.635.1995 for Des Plaines and 847.635.1431 for Skokie.