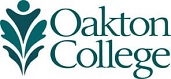 Our Locations & Facilities
Oakton Community College offers programs on a flagship campus in Des Plaines, Illinois, and a second campus in Skokie. In addition, the College offers continuing education courses at off-campus locations throughout northern Cook County.
Des Plaines Campus
Oakton's 147-acre main campus sits in a forest preserve near the Des Plaines River, and is home to two buildings:
The main building—a red-brick facility built in 1980—boasts 65 classrooms, including 19 computer classrooms, and 46 educational laboratories. In addition to faculty and administrative offices, the original building houses: 
The Performing Arts Center
The Koehnline Museum of Art
Teleconferencing and interactive video classroom
Fitness Center and Gymnasium
Library and Bookstore
The Margaret Burke Lee Science and Health Careers Center (Lee Center)
This LEED Gold certified, 93,000-square foot building is among the most efficient public buildings in the country, showcasing the latest sustainable technologies. The Lee Center is home to the Division of Science and Health Careers suite, as well as the anatomy, biology, chemistry, earth science, medical laboratory technology, physical therapy assistant, physiology, physics, and nursing programs (including a simulation hospital).


See the Des Plaines Campus Maps


Skokie Campus
Oakton's Ray Hartstein Campus, located near downtown Skokie, offers degree and certificate programs as well as noncredit courses. 
The state-of-the-art building, dedicated in 1995, houses 31 classrooms and 12 laboratories. Other features include:
Manufacturing, computer, RFID, and science labs
Teleconferencing and interactive video classroom
Art, Science, and Technology Pavilion
Early Childhood Demonstration Center
Library and Bookstore
Off-Campus Locations
Continuing education courses are offered at the following high schools and at more than 240 other locations:
Evanston Township High School
Glenbrook South High School 
Maine East High School
Maine South High School
Maine West High School
Niles North High School
Niles West High School