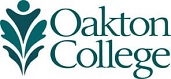 Oakton Auditons
Play On! Playwriting Festival Auditions
Six daring, hilarious, and philosophical one-act plays and storytelling monologues written by community college students in the midwest, directed by Oakton Community College students and alumni.

Roles: Casting men and women of all ages and ethnicities. Prepare a monologue or be ready to do a cold reading.
Dates: Mon., Jan. 31, 6-9 p.m. and Tues., Feb. 1, 6-9 p.m.
Location: Footlik Theater, Des Plaines campus (park in Lot A)
(No appointment necessary. Masks required on campus.)
Performance Dates: March 25, 26 at 7:30 p.m. & March 27at 2 p.m. Email Mary Ringstad-Gagliano with questions.