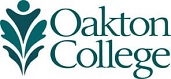 Six Piano Ensemble
"Extraordinary." "Unique." "Innovative."
That's how critics describe Oakton's Six Piano Ensemble —
the only one of its kind. 
Founded by Glenna Sprague, Oakton professor and coordinator of music, the Six Piano Ensemble – pianists selected through a highly competitive audition process - performs a repertoire of classical, ragtime, popular pieces, and symphonic literature transcribed for the pianos by Professor Sprague.
The Ensemble's rich, layered sound is reminiscent of a full orchestra, and much like an orchestra, the performers take their cue from Professor Sprague, who conducts from the podium. Each plays a different part of a composition, transferring the melody from pianist to pianist. 
This unique musical group has received testimonials from musical experts and leaders throughout the country. Renowned composer Robert Vandall paid tribute to the Ensemble in 2008 with his original composition, Oakton Toccata (Alfred Music Publishing Company). In addition to its popular performances, the Ensemble has released two CDs: Oakton Six Piano Ensemble: Live in Concert and Oakton Six Piano Ensemble: Live in Concert II.
To schedule a performance or learn more about auditioning, contact 847.635.1905 or gsprague@oakton.edu.