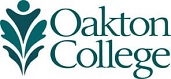 Each year more than 1,100 students enroll in art classes at Oakton. With outstanding facilities at the Des Plaines and Skokie campuses, the art department provides education in the studio and classroom, offering course work in art history, ceramics, drawing, life drawing, painting, 2-D and 3-D fundamentals, and museum studies. (The College offers courses in graphic design and photography through the graphic design program.)

Small classes and individualized attention assure students meet their educational goals. A key component of the program is the development of a portfolio, with all studio art courses including portfolio review as the ultimate check of content, quality and continuity. Oakton welcomes degree-seeking students who plan to transfer to a four-year college or university and major art, as well as those interested in study for personal enrichment.
Oakton's art faculty are practicing artists who exhibit regularly in juried competitions at galleries and museums throughout the Chicago metropolitan area and beyond. Students participate in the Skyway Conference and Illinois Collegiate Art competitions, where they have won numerous awards, as well as in the College's annual student show, OakArt. Students also benefit from the College's nationally recognized museum collection housed in the William A. Koehnline Museum of Art https://oakton.edu/museum.
Oakton takes great pride in creating a learning environment that advances artistic work and academic inquiry within an outstanding community of faculty, staff and students. Take a class with us, and find out for yourself!
For more information, contact:
Lou Pierozzi, Chair, Art and Design at 847.635.1838 or lpierozz@oakton.edu
Erick Rohn, Coordinator Graphic Design at 847.376.7248 or erohn@oakton.edu