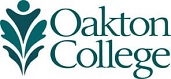 Oakton's chemistry curriculum begins with courses for students who have not yet taken high school chemistry, continues through general college chemistry, and includes advanced courses in organic chemistry and biochemistry. A dynamic group of faculty share their enthusiasm for teaching chemistry every day in the classroom.
The program meets the needs of students pursuing a variety of study and career options in the chemical sciences. Bridging areas of science, including biology, physics, environmental science, and health sciences, chemistry is a stepping stone to many occupations in diverse fields such as engineering, medicine, pharmaceutical science, energy technology, toxicology, art preservation, and education. Students who enroll in the program find themselves intellectually stimulated -- and, as their skills and confidence grow, they become better analytical thinkers and problem solvers.

For more information, contact Chad Landrie, physical sciences chair and professor of chemistry, at 847.376.7439 or clandrie@oakton.edu.