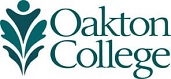 Oakton's Early Childhood Education (ECE) Program prepares students for a range of teaching positions at the early childhood level, from infancy through preschool. Whether pursuing an Associate in Applied Science (A.A.S.) degree, one of several certificates, or a state-recognized credential, all ECE students must:
Achieve a minimum grade of C in all ECE courses; and
Successfully complete field experiences in an early childhood education setting. ECE students pursuing an Associate in Applied Science degree must also successfully complete two semesters of practicum experiences – one in an Oakton ECE Center classroom and one in an approved early  childhood center in the community. To apply for a state credential, ECE students must complete corresponding certificates or the A.A.S. degree.
All ECE students are expected to satisfactorily perform the following essential functions in field and/or practicum settings:
Provide care for (i.e. diapering, dressing, feeding, soothing, interacting) and supervision of children. The provision of care and supervision involves the following physical skills:
To work for prolonged periods at various heights including standing, sitting, bending, kneeling, and crawling heights; to easily lift/move young children; to quickly reach an endangered or injured child.
Ability to observe children and consistently keep track of activity in the physical environment.
Ability to monitor activity, interactions, and environmental sounds.
Plan, direct and conduct programming for children which meets their developmental needs. Planning, directing, and conducting such programming involves the following cognitive skills:
Application of developmental theory and curriculum to field/practicum interactions, activities, planning, and assessment.
Use of organizational and time management skills to carry out multiple tasks in the field/practicum setting.
Effective written and oral communication with children, families, co-workers, and program visitors.

Demonstrate the skill and competence necessary to contribute to each child's physical, intellectual, personal, emotional, and social development. Factors contributing to the attainment of this standard include:
Emotional maturity when working with children;
Cooperation with the purposes and services of the program;
Respect for children and adults;
Flexibility, understanding and patience;
Physical and mental health that do not interfere with child care responsibilities;
Good personal hygiene;
Frequent interaction with children;
Listening skills, availability and responsiveness to children;
Sensitivity to children's socioeconomic, cultural, ethnic and religious backgrounds, and individual needs and capabilities;
Use of positive discipline and guidance techniques; and
Ability to provide an environment in which children can feel comfortable, relaxed, happy and involved in play, recreation and other activities.

Maintain a healthy and safe environment for children consistent with state licensing rules.

Understand responsibilities as a mandated reporter of suspected child abuse and/or neglect.