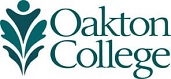 Oakton's Law Enforcement and Criminal Justice program prepares students for employment as police officers, special agents, juvenile officers, security officers, state troopers, court bailiffs, private detectives, probation officers, investigators, inspectors, and corrections officers. Open to full- and part-time students, the program caters to the professional and educational needs of those interested in law enforcement, as well as to current law enforcement personnel who desire to increase their proficiency or improve their professional career opportunities.
Recognizing the need for more specialization in law enforcement, Oakton was the first academic institution in the United States to offer a college-level forensics course featuring instruction in the Intergraph Video Analyst System, the only video enhancement system that uses NASA-developed VISAR® (Video Stabilization and Registration) technology.
Although Oakton's program does not require prerequisites, students not already employed at law enforcement agencies should note that many departments have certain criteria, including education, age, and physical conditioning. Completion of Oakton's program does not guarantee employment.
For more information, contact James Humenik, department chair, at 847.635.1948 or LAE@oakton.edu.