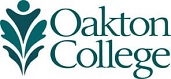 Looking for top quality, hands-on training in the high tech disciplines? Oakton offers the foundation you need to begin or enhance your career in computer integrated manufacturing, mechatronics/industrial automation, or warehouse-distribution fields. Whether you're pursuing a degree or a certificate, you'll find a variety of classes that meet during the day, evening, and on the weekend.
Instructors bring years of professional experience in their disciplines to the classroom. Here you'll find a focus on CNC machining, CNC setup and programming, automation systems design and maintenance, PLC programming and machine control systems, industrial robotics systems, sensor technology, and vision systems. In addition, Oakton is one of two community colleges in Illinois offering bar code/RFID technologies.
Students who complete our programs find employment in a wide variety of manufacturing and distribution organizations throughout the Chicago area. Recent graduates hold diverse technical positions, from programming CNC machines for high tolerance part creation, to designing products with rapid prototyping equipment.
For more information about opportunities in manufacturing technology, contact Joseph Cirone, department chair, at 847.376.7612 or e-mail jcirone@oakton.edu, or Boguslaw Zapal, Coordinator, at 847.376.7707 or email bzapal@oakton.edu.