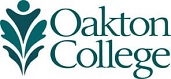 Oakton offers a wide array of industrial programs that prepare students for jobs in manufacturing or warehouse and distribution. Implementing high tech systems to stay competitive and thrive in the global marketplace, these businesses seek employees with advanced skills. If you're ready to take the next step, Oakton's technology programs will give you the skills you need to advance your career.
CNC Machining
Today almost all production and prototype metal cutting utilize computers to control the positioning of tooling in an automated or computer numeric control (CNC) machining center. Historically divided into two classes, Turning Centers and Milling Centers, these machines are being replaced by multi-axis machining centers that can perform both functions. Oakton offers a number of hands-on classes in CNC machine setup and programming.
Hydraulics and Pneumatics
Oakton's hydraulics and pneumatics class trains students who must maintain or set up industrial automation equipment that use fluid power as the motion power source. Learn in a hands-on environment that offers industrial grade equipment. The course provides in-depth study of component specifications, system design parameters, and control system interfacing as well as extensive trouble shooting secessions. Lab projects are built and tested on Amatrol (hydraulic) and Festo (pneumatic) trainers.
PLC Programming
Automated equipment used by companies in the manufacturing, distribution, or warehousing businesses mostly are controlled by PLC (programmable logic controllers). Oakton offers a comprehensive PLC training program using the Allen Bradley SLC-500 line of controllers. All students receive extensive hands-on training in programming ladder logic; designing HMI displays; interfacing valves, switches, and other I/O devices; and debugging ladder and diagnostic programs.
Robotics
Oakton's robotic class is for students who must maintain, program, or install robots or robotic CIM cells. The program covers robot cell safety requirements; types and applications of various end effectors; motion profiles with acceleration and deceleration calculations; PLC interfacing; gripper interfacing; interface and use of vacuum pick up devices; and the use of a vision system for location and orientation.