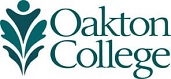 Support Services
Free resources available through the College's Learning Center include tutoring services, tutorial software, study skills consultations, calculator workshops and print materials. Learning Center at the Des Plaines Campus: 847.635.1658 and at the Ray Hartstein Campus: 847.635.1434. 
Oakton's Library offers a wide selection of mathematics books and periodicals.
Individual guidance is offered to students through the counseling staff.  For information contact the Student Services Center at Des Plaines: 847.635.1700, or at the Ray Hartstein Campus: 847.635.1400, or contact the Division of Mathematics and Technology: 847.635.1688.