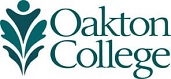 Enrolling some 500 traditional and non-traditional students each year, the Department of Music offers a variety of performing opportunities and study with distinguished faculty. Many students begin their music career at Oakton, earning the associate of fine arts (A.F.A.) degree, and then pursue their bachelor's degree at some of the nation's finest four-year colleges and universities.
In the past several years, students from Oakton have transferred with junior-year status to the Berklee School of Music in Boston; Columbia College; DePaul University; Illinois State University; Roosevelt University's Chicago College of the Performing Arts; the University of Illinois at Urbana- Champaign; and Western Michigan University, to name just a few.
A wide array of music courses includes theory and aural skills; class guitar, class piano, and class voice; conducting; fundamentals of music; music literature and history; and private study in classical and jazz. Applied music courses include brass, guitar, percussion, piano, strings, woodwinds, and voice.
At Oakton, students find the opportunity to perform in solo recitals and in groups and ensembles. The College is home to the internationally acclaimed Six Piano Ensemble; Jazz Band and Jazz Combo; and the Choir, Guitar, Percussion, and Woodwind Ensembles. In addition to performing at Oakton, the College's music groups have seen stages throughout the United States – including Carnegie Hall and the Chicago Civic Opera House – and in Austria and Hawaii.
Whether majoring in music or taking elective courses for enjoyment, Oakton students enjoy one-on-one instruction and study in a rich learning environment, with state-of-the-art practice rooms and equipment that includes the Yamaha Clavinova Digital Piano Lab and a nine-foot Bösendorfer grand piano. The newly renovated Footlik Theater offers a spectacular yet intimate performance space.
Oakton's stellar music faculty includes professional musicians who have performed with the Chicago Jazz Ensemble, Chicago Opera Theater, Chicago Symphony Chorus, Cincinnati Symphony Orchestra, Grant Park Orchestra, Ravinia Festival Orchestra, and with such entertainers as Tony Bennett, Natalie Cole, and Maynard Ferguson. Faculty also have played for Broadway musicals including Guys and Dolls, Les Miserables, Sweet Charity, and have given recitals in Canada and France.
For more information about the diverse music options and amazing artistic experiences available at Oakton, contact Glenna Sprague, Coordinator, Music at 847.635.1905 or gsprague@oakton.edu.