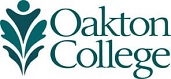 Every effort has been made to make Oakton Online courses as technologically accessible to the widest variety of students as possible. The minimum specifications below are for classes that use D2L Brightspace.
Before enrolling in an online course please visit the System Check page; this page will verify your browser version, browser settings and display settings on your computer.
Recommended hardware/software requirements
Students enrolled in online courses have the convenience to access their courses anywhere, anytime. To have a rich learning experience, free of technical issues; it is recommended that online students have access to a computer with the following hardware and software requirements:
Screen Size
Operating Systems
Microsoft® Windows® 7 or newer
Mac OSX 10.6 or latest
Linux chrome OS
Mobile Operating System Native App Support
iOS 7 or newer
Android 2.3 or latest
Computer Speed and Processor
Use a computer 4 years old or newer
1 GB of RAM
2 GHz processor
40 GB of Hard drive
Internet Speed, Software, and Email
Broadband, wireless high-speed internet connection such as DSL or cable
Have an email account
Internet Browser, such as Microsoft Edge, Firefox, Google Chrome
Basic software applications (Microsoft Office). If you don't want to purchase Microsoft Office, as a student with Oakton email address or any educational institution email address, you can download Microsoft Office 365 for free.
Adobe Acrobat Reader
Up-to-date antivirus program
Assistive Technology Software
Kurzweil 3000 (for Windows or Mac. Reads the Web for Chrome or Firefox. Has other great features)
JAWS (for Windows 7 and newer. Works with the latest versions of Microsoft Office, Google Docs Internet Explorer 11, Edge, Firefox  & Google Chrome)
NVDA (for Windows 7 and newer. Supports for latest version of Firefox, Google Chrome and Microsoft office)
VoiceOver (for Mac. Use VoiceOver to read text on Mac. Can be used to edit seamlessly in Grade 2 Braille. It provides greater control while using a Mac)
Recommended Browsers
Note: These are the minimum browser requirements needed for using D2L Brightspace.
For Desktop
| | |
| --- | --- |
| Browser | Supported Browser Version(s) |
| Microsoft Edge | Latest |
| Mozilla Firefox | Latest |
| Google Chrome | Latest |
| Apple Safari | Latest |
For Tablet and Mobile

Tablets and mobile devices such as smart phones should have the latest native browser. Be aware that many features of D2L Brightspace will not function fully or in some cases at all on tablets and mobile devices so students should not expect to be able to complete a D2L Brightspace course without access to a PC or Mac.
Device

Operating System

Browser

Supported Browser Version(s)

Android

Android 2.3 version or latest version

Chrome

Latest

Apple

 

iOS 7 or latest version

Safari

Latest

Chrome

Latest version for the iOS browser.

Windows

Windows 10

Edge, Chrome, Firefox

Latest of all browsers, and Firefox ESR
*Note:
If you are using Safari, you should disable its pop-up blocker when using D2L Brightspace. To disable the pop-up blocker, click Safari in the menu bar and uncheck Block Pop-Up Windows. Failing to disable the pop-up blocker may prevent you from completing some tasks in D2L Brightspace, such as composing discussion board messages. If you continue to have problems try using the Firefox web browser which can be downloaded for free at www.mozilla.com/firefox.
Ensure that your browser has JavaScript and Cookies enabled.
For desktop systems, you must have Adobe Flash Player 10.1 or greater.