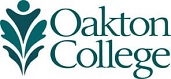 Access Your Online Course
Click on "MyOakton" from Oakton's home page, www.oakton.edu, and follow the login instructions. Then click on the "My courses" tab, then on the "My Courses" channel.  You should see all your courses listed here. When you click on your online course, you will be linked directly to the course homepage, or to course information your instructor has provided.
If you experience difficulty, please see "Troubleshooting D2L Login Problems" prior to contacting the Online Learning office for assistance: alt-ed@oakton.edu, 847.635.1971.
Your D2L Course Page
Clicking on the course in myOakton takes you to that course's page in D2L. The course page will have several "widgets" or function areas in the course.
The News widget or a similar tool will generally be at the top of the page and contain links and information to get you started in the class. (It will contain only news pertaining to this class.)
Key to the Course page are the links on the gray navigation bar. These include:
Grades

The D2L Home Page
Besides your course page, D2L has a home page, found by selecting the "My Home" icon in the upper left of the blue banner.  This page has links to all D2L courses you are enrolled in.  From here, you can go to the individual course home pages (see above).
Content is listed in the navigation bar across the very top of the page, where you'll find links to:
Email (an internal email used only for D2L)
Locker (a folder where you can store miscellaneous files to which only you have access)
Schedule (a calendar of D2L-related events input by your teachers, administrators or you for all of your D2L courses)
My Home (a link back to your global D2L home page)
A gray bar below the Desire2Learn green banner has a Logout text link. Content is compartmentalized into rectangular areas called "Widgets."
My Settings allows you to set preferences and personalize your D2L experience and to track your work in different classes. You can create a profile of yourself, similar to Facebook, including a photo, likes/dislikes, etc. Note: When you post a comment in your online class, the photo you have posted in your profile will appear next to your comment.
My Courses shows a list of all the classes you're associated with in D2.  Clicking on a course from the D2L home page will take you to that course.
News shows announcements from D2L administrators
Calendar is the same as the Schedule
Other Resources
Your instructor may have information about their design and which widgets they will be using.  You may also want to refer to
The D2L learning environment (guide by D2L)