Service Learning at Oakton
Service Learning is a growing movement on college and university campuses to learn through engaged and active involvement in the community. Through service learning, students connect course content to real issues, complete volunteer hours, then reflect on what they learned. Oakton College is a strong community service advocate whose mission is to "empower and transform our students in the diverse communities we service."  Since 1997, Oakton has worked with the Association of American Community Colleges on civic engagement initiatives.
An important aspect of service learning is student participation, from identifying the community need to researching and contributing to the outcomes. Students who have a voice in the process are more intrinsically involved. When service learning is applied in a way that connects with course content, literature and community needs, students general report that they:
Have a stronger connection to content.
Understand how content relates to real life.
Engage with others who may differ from them.
Discover academic, social and personal skills.
Gain a deeper understanding of themselves and their community.
Develop leadership abilities to solve problems, work as a team while helping others.
Oakton's Service Learning program integrates service projects with an academic curriculum, involving reflection of the service experience through reading, writing, speaking, listening and participating in group discussions. When participating in service learning, you will also have opportunities to:
Explore majors and careers.
Gain valuable work experience and build your resume.
Learn new skills.
Improve your self-esteem and personal satisfaction.
Meet new people and make new friends.
Give back to your community.
Volunteering and community service are valuable activities that can help our students grow as civic-minded individuals. Helping students between their academic and service aspirations has been a priority for years. Students who seek to get involved in a community or want to explore a cause they are passionate about should consider service learning as a method of enhancing their college experience.
Since 1997, over ninety percent of current and former participants highly recommend service learning to all Oakton students. To explore service learning programs' possibilities and for more information, contact your advisor or instructor for initial guidance. You can also contact servicelearning@oakton.edu for more information.
Community Partnerships
Over 500 students from our Des Plaines and Skokie campuses have participated in service learning activities with over 100 community partners. These non-profit organizations represent a variety of community needs, from homelessness to domestic abuse.
Students have accumulated service hours at hospice centers, food banks and conservation sites as well. Real-world issues are as diverse as the people they impact.
Some of the partnerships that work with Oakton students include:
Habitat for Humanity
WINGS
Casa Central
Family Focus
Feed my Starving Children
Chicago Cares 
Advocate Lutheran General Hospital
Kohl's Children's Museum
Greater Chicago Food Bank/Skokie Food Bank
Salvation Army
Forest Preserves of Cook County
Frisbie Senior Center
Past Project Examples
Khulan Tsogbayar, a certified nursing assistant and Oakton student, spends her Wednesday afternoons delivering meals to home-bound Skokie residents. Though it started as a class assignment, Tsogbayar's participation with the Village of Skokie
Meals on Wheels
program continues even after the semester. She provides lunch to many seniors who want to maintain their independence but cannot prepare their own meals. Tsogbayar gathers prepared foods from
North Shore Hospital
, makes home deliveries with the food and assists the residents with the meal. Providing seniors with their lunches makes her proud because she sees how one little gesture can make such a big difference. For Tsogbayar, it is about more than just delivering food. She loves being able to bring a little joy to others.
For students in Jody Padar's spring accounting classes, learning extends far beyond the classroom. In addition to the normal course work, Padar encourages her accounting students to volunteer at least two Saturdays with Ladder Up, a nonprofit organization committed to helping low-income families become financially stable. Ladder Up assists in completing tax returns, applying for financial aid and opening bank accounts. Besides the opportunity to help others, volunteers also gain invaluable experience in accounting, finance and customer service.
Get Started with a Service Learning Project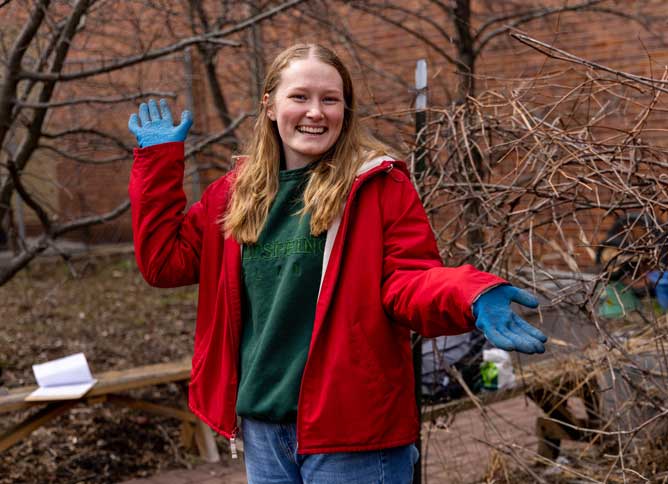 If you are interested in engaging in a service learning project, look for courses in the college catalog that identify with this learning method. Remember, service learning is always part of course goals and objectives. A course instructor will attach service learning hours to a course assignment. Completed hours are recorded on an Oakton-approved Student Log Sheet. The course instructor will work with the college Service Learning Coordinator to locate a service site for you if needed. The instructor will also guide you through the research process, the reflective writing, and the final demonstration, or presentation, of the learning outcome. Upon graduation, students who complete service learning hours will receive a purple cord. Students who complete an approved service learning course will have a service learning designation on their transcript.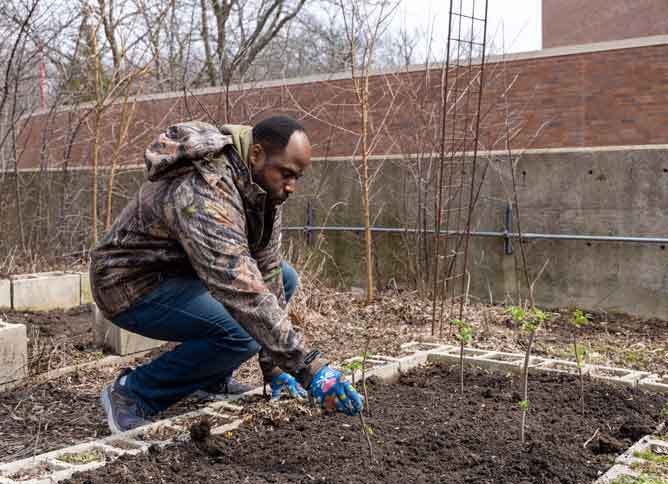 Join the ranks of service learning advocates. Participate in a professional development workshop on the value and benefits of service learning as a pedagogical tool for teaching and learning, and train in integrating this method of teaching into your course. The Service Learning Coordinator will help connect to approved service sites and be your writing guide, assessing and mentoring students. Oakton also has a talented group of veteran service learning faculty who are members of the Service Learning Faculty Committee. They represent all programs and both full and part-time faculty.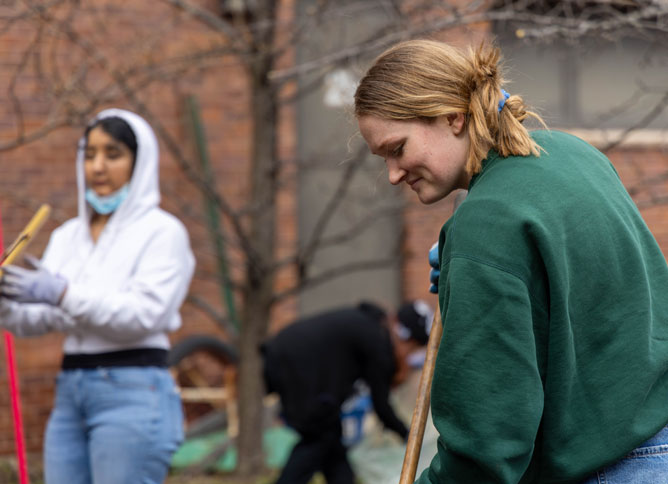 Oakton welcomes new community partnerships as the number of faculty and students invested in service learning grows. Community partners interested in participating in Volunteer Fairs and other college service events should contact the Service Learning Coordinator.
Frequently Asked Questions
Oakton is proud to offer a scholarship dedicated to a student committed to service learning. Please visit the
Financial Aid page
to explore the available options.
No. Service learning is unique to each course, as it is engaged learning connected to course content.
Many four-year schools require service learning hours towards graduation completion. Service learning hours accumulated at Oakton may be transferable with appropriate documentation. Contact the
Office of Advising, Transitions and Student Success
for more information and assistance with transfers.
You can participate in service learning courses at both the Des Plaines and Skokie campuses or online, depending on your major.
Service learning is part of a course's goals and objectives, whose focus is encouraging students to participate in volunteer work with a not-for-profit agency. It is not a paid work experience. However, the networking connections you make during this program may lead to future employment opportunities.
Yes. Service learning is an individual volunteer experience. As with any assignment, whether a face-to-face or online class, service learning projects will be guided by the course instructor through a descriptive handout, detailing the steps for completion. Your course instructor will work closely with the college Service Learning Coordinator to ensure a successful experience. For more information contact your advisor or contact us at
servicelearning@oakton.edu
.