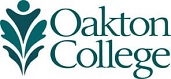 Center for Promoting STEM (CP-STEM)
With a significant grant from the National Science Foundation, Oakton's Center for Promoting STEM (CP-STEM) offers diverse activities including a summer "bridge" program; peer tutor training; student-industry-teacher simulations; study sessions; seminars; and field trips. The New York Times recently cited Oakton among the top-ten community colleges in the nation and called attention to CP-STEM. In addition, the Peer Tutor Training and Student-Industry-Teacher Simulations programs captured the Innovation Award from the Illinois Council of Community College Administrators in 2003 and 2005 respectively.

Success Stories
Oakton Robotics team of 12 students under Angelo Gero, project advisor, wins second place out of 36 colleges of universities at the 2016 NASA Robotics Mining Competition.