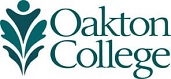 Welcome to the service learning program at Oakton Community College!
Service learning, a unique teaching/learning strategy, enables students to apply their classroom knowledge to tangible community needs.
Across the country, teachers from pre-school through college are discovering ways to engage students in their communities. Going beyond volunteering or community service, service learning links academic knowledge to real-world issues and teaches students to be capable, compassionate citizens.
By agreeing to have one or more of our students working with you, you join a growing list of agencies that partner with the College in this compelling initiative. Oakton students commit from five to 20 hours to area schools, hospitals, domestic violence shelters, churches, child care centers, animal shelters, ecology centers, and assisted care facilities.
Service learning benefits everyone – students, faculty, and community members. Research studies show that students learn more effectively, and teachers teach more effectively when involved with service learning. However, the success of service learning really depends on the partnerships we forge with you.
If you are interested in becoming part of this program, email us at ServiceLearning@oakton.edu.