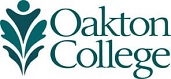 Traditional Student (Age 17-20)
After completing the placement process, you will receive information on how to register for New Student Orientation. New traditional-aged students (age 20 and younger) are required to complete orientation to register for classes. During this one-day event you will meet other incoming students, become acquainted with your academic advisor, and register for classes. Staff and current Oakton students also will be on hand to help you navigate the transition to college.
For information on how to complete orientation for the summer and fall 2017 semesters, email orientation@oakton.edu.
On-campus orientation starts with check-in at 10:00am and will conclude with course registration by 3:30pm. Participation in the entire program is required.