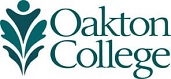 Community
Oakton is the community's college. In addition to academic offerings, the College provides many valuable programs that are available to the general public.
At the Des Plaines campus, you can explore the Koehnline Museum of Art, enjoy the Performing Arts Center, support one of our many athletics programs, or work out in our Fitness Center. While at the Skokie campus, check out the award-winning architecture of the Art, Science, and Technology Pavilion, take a peek at the Plucked Chicken Press exhibition, or engage in an Emeritus class "for the student who wasn't born yesterday."
With resources like the Workforce Solutions for Business and Industry, Early Childhood Centers, and the Internship Program, Oakton plays an important role in serving businesses, organizations, and residents in our communities.