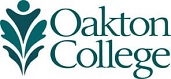 Canceled Classes
This is a listing of individual canceled classes. Please sign up for Alert!Oakton to be notified when the entire campus and/or college is closed.
Note: This page is updated as the college is notified between 7:30 a.m. - 7:30 p.m. Monday - Thursday, and 7:30 a.m. - 4:30 p.m. on Fridays. Last minute cancellations of early morning classes Monday - Friday will be posted as soon as possible; last minute cancellations of weekend classes may not appear on this list.
IMPORTANT: Check D2L/myLabs as well as your email for assignments and instructions.
No classes have been canceled.