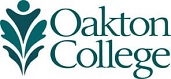 Glenna Sprague
Musically Inclined
Sonatas packed, a lone Buckeye crosses the Ohio border to embark on a teaching career in Illinois.
The piano beckoned Coordinator of Music Glenna Sprague at an early age. "I used to rush home from school to practice," she reminisces. "Sometimes, I sat there the rest of the afternoon playing favorite classics."
Sprague, who holds bachelor's and master's degrees in music and piano performance from the Conservatory of Music at Capital University and Ohio University, respectively, continues to live a life centered around the piano — until football season, that is.
A die-hard Cleveland Browns fan, Sprague initially thought she would soon return to her native Ohio. Yet, she's happy she's stuck around. "Oakton is an exceptional place to teach because the students are eager to learn.  And, as for football, it didn't take me long to discover and join the Browns Backers of Chicago," she quips. "I couldn't have survived a single football season in Illinois without them!"
Sprague, who also grew up playing alto sax, twirling a baton, tap dancing, and playing basketball and volleyball, credits her parents for encouraging her to pursue a variety of interests. They also taught her the value of discipline and hard work, attributes that have helped her grow Oakton's music department and develop the acclaimed Six Piano Ensemble as a way to challenge her more advanced students. Notes Sprague, "Music provides opportunities to embrace creativity and sharpen critical thinking skills, adding value to anyone's education. And, learning to play an instrument can be a lot of fun!"

Glenna Sprague
Coordinator of Music