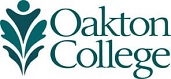 Tracy Fulce
A Life Coach Enters the Classroom
Tracy Fulce never thought she'd be a teacher. But then she discovered her life's calling.
My path to academics was not typical. I never saw myself as a teacher; my mom taught sixth grade, so I knew about teaching and thought it wasn't for me.
Instead, I worked as a life coach in Los Angeles, primarily with small groups. I would go into an organization that was having a rough time, help them write a strategic plan, and coach them on implementing the plan.
I had moved back to the Chicago area and was starting to think about taking a break from the hustle of coaching, when a friend of mine pointed out that teaching is very similar to what I was doing. I tried teaching, and right away I knew I'd found my life's calling.
What I love about Oakton is that there is space here for me to be me. I don't have to be like everyone else; we don't all have to approach everything in the same way. My classroom environment is wildly different from my colleagues'-we share the same book, but how I present that information is totally up to me. There's a collective truth here that each of us has something unique to offer.
For instance, I recently introduced a course on life coaching. Not many colleges offer programs on coaching-but Oakton was willing to go for it because I'm experienced in the field. I love the feeling of freedom and safety here. You know the College has your back, so you can do innovative and creative things.


Tracy Fulce
Assistant Professor of Marketing and Management